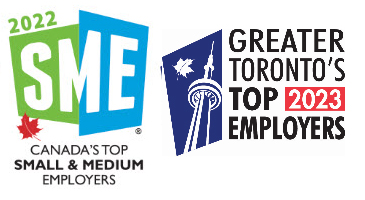 We're a Top Employer
Fundserv has consistently been recognized as a Greater Toronto Top Employer and a Canada's Top Small & Medium Employer. It's official, we're a great place to work!
Building the Future, Together
We are embarking on a multi-year, multi-million-dollar technology transformation program that focuses on currency, resiliency, security and agility. We are redesigning every façade of Fundserv's platform to elevate our members' experience and simplify how they do business through our network. Every employee will play an important role in getting us where we're headed, so bring your curiosity, originality and passion for improvement!
We're Flexible
When it comes to the future of work, we understand that the 9-5 in office requirement is a thing of the past. Autonomy is key to our working environment, and we offer flexible workspaces, hours and mobility. Our purpose-led hybrid model means that you come in only when there's a reason, and not to fill a days-per-week quota. We won't micro-manage your time, because it's all about the results you achieve, not the time you log.
Time Away
There are times when you may need to be away from work, whether it's a special vacation, family moments or for personal reasons. We've got you covered with generous vacation time, paid personal and mental wellness days, and situational leave.

Continuous Learning
We recognize that becoming a master of your craft calls for a continual investment in your personal and professional development. Our learning and development program offers education tuition assistance, annual training and access to online learning platforms such as LinkedIn Learning and PluralSight to help you optimize your capabilities. Stay up to date on the latest certifications, talk shop at key conferences, hone your skills and increase your edge!
Recognize and Celebrate
We're big on celebrations! Whether it's a job well done, a major milestone, we are going to shout it out loud. Our innovative peer recognition platform gives everyone on the team a chance to share this news with the company and celebrate together. You have the chance to earn Fundtastic points to redeem a variety of merchandise, so every shoutout counts!
Getting Social
We love to bring the team together for a bit of fun, hosting events like escape rooms, trivia contests and softball games. If you're in the office, there's no shortage of things to do during the week, whether it's a quick catch-up by the coffee bar, a PS4 break at lunch or going out for a drink at the end of the day. We also host many initiatives you can join in remotely using our communications technology for connecting employees.
Benefits and Work Perks
We recognize that feeling your best allows you to do your best. We support our employees with the following benefits:
Group Medical
Maternity & Paternal Leave Top-Up
Wellness Account
Mental Wellness
RRSP Matching
Performance Pay
Work-from-home Stipend
Monthly Internet Allowance
Employee Discounts
Employee Assistance Program
---